Snifffr.com Review: A Comprehensive Look at one of the best Used Panties Marketplace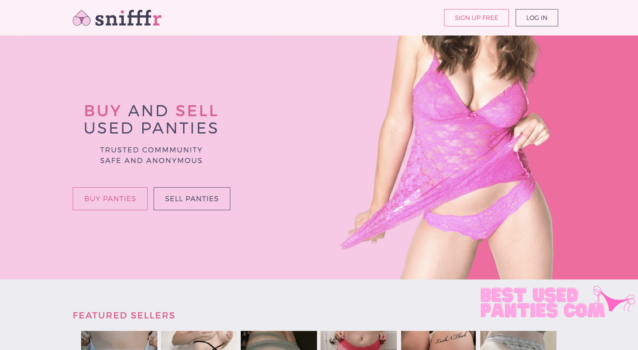 Wide selection of used underwear available.
Competitive pricing.
Accepts a variety of payment methods.
Worldwide shipping is available.
Dedicated customer service team.
User-friendly website with a smooth and easy user experience.
Takes steps to ensure the safety and security of its users.
Welcome to our review of Snifffr.com, the premier online marketplace for used panties. This is the place to go if you're in the market for pre-owned panties, bras, and other intimates. This review will cover everything you need about Snifffr, including its history, product selection, pricing, payments and shipping, customer service, user experience, trustworthiness, and comparison to other platforms.
| | |
| --- | --- |
| Fake Check? | ✅ Yes |
| Products can be sold | Used panties, Underwear, Socks, Bras, Pantyhose, Stockings, Face Masks and more |
| Shipment | Self-Organized |
| Support | Emails, Tickets |
Info from Snifffr.com
Product Selection on Snifffr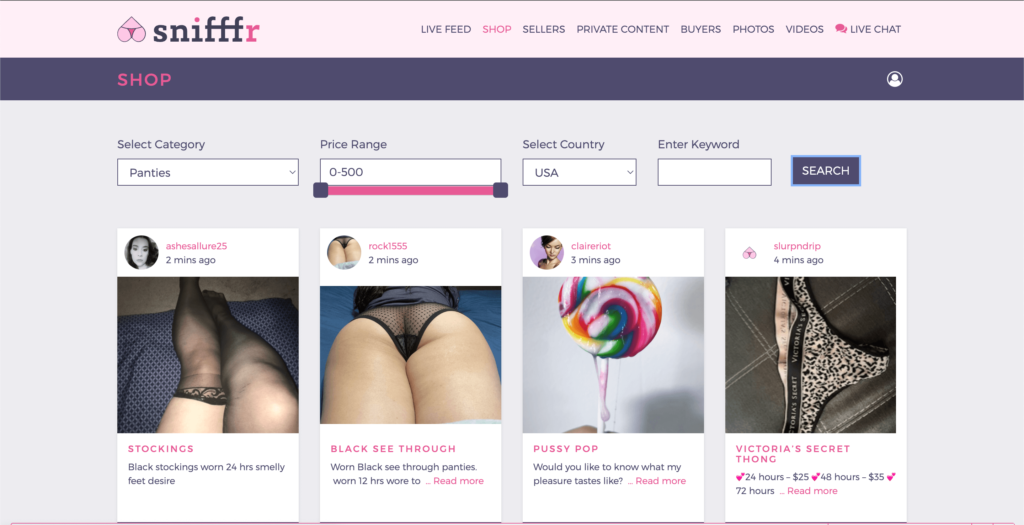 Snifffr offers a wide range of used undergarments for men and women, including panties, bras, and other intimates. The selection is constantly updated with new items, so there's always something new to discover. You can filter your search by size, material, brand, and more to find the perfect pair of used thongs.
This platform allows you to buy used items from undie sellers worldwide. The site has a simple interface that makes it easy to browse through all available catalogs and find what you're looking for. The site also has photos and videos of the items for sale to help you better understand what you're buying. You can always check out the FAQs section for more information if you have questions about buying. Snifffr is a great place to buy used items, and it's easy to find what you're looking for, thanks to the site's simple interface.
How to Buy on Snifffr
As a buyer on Snifffr, anonymity is key to ensuring privacy and confidentiality. Snifffr offers a discreet platform where buyers can browse various used underwear options from different sellers across the globe. To get started, buyers must sign up and create a free account. Once the account is set up, buyers can search for the perfect pair of used panties using keywords or filters like color, style, and size.
One of buyers' most frequently asked questions on Snifffr is ensuring the authenticity and quality of the used panties they purchase. Snifffr provides a system where sellers can verify their identity, ensuring buyers deal with legitimate sellers. Additionally, buyers can check the seller's profile and ratings, which provide insight into the quality of the used panties they offer. If a buyer has any doubts or concerns about a seller, they can reach out to the seller and ask for additional details or pictures of the used panties they are interested in buying.
Another common question buyers ask on Snifffr is about the payment options available. Snifffr offers several secure payment methods, including PayPal and cryptocurrencies like Bitcoin. Buyers can rest assured that their personal and financial information is kept safe and secure throughout the transaction. Shipping options vary depending on the seller, but most offer discreet packaging to ensure privacy and confidentiality during delivery.
Premium features
The price to become a premium seller is not as high as the features you've got from it:

Make Money on Snifffr
To contribute to Snifffr.com, you must create a free account and list all your used panties for sale. You can put as many items as you have available, and it is a good idea to regularly update your inventory with new things to keep your store active and attract more buyers.
To maximize your chances of making money on this website, you must set competitive prices for your used panties and include clear, detailed descriptions and photos of your items. You should also consider offering additional services or perks to your buyers, such as custom requests or extra items included with their purchases. You can increase your visibility and attract potential buyers by actively participating and promoting your listings. Ultimately, your success on Snifffr.com will depend on various factors, such as the demand for your items, the price you set, and the competition from other sellers.
As a panty seller on Snifffr.com, you can list as many items as you like and sell your used pants online to a broad audience of interested buyers. The platform helps you serf the listings and find potential buyers for your used undies. The online chat feature allows you to interact with buyers directly and answer any questions they may have.
One of the benefits of selling used panties online through the marketplace is that the platform handles the payment processing on behalf of the sellers. This means you don't have to worry about taking financial transactions with your buyers directly, which can be a convenient and secure way to earn as a panty seller.
Here are the steps to sell on Snifffr:
Create an account

Sign up for a free account on the Snifffr website by providing the required information. Make sure to read and agree to the terms and conditions before proceeding.

Set up your profile

Once registered, fill out your profile with details and descriptions to attract potential buyers. You can include information about your preferences, the types of underwear you sell, and other relevant details.

Upload photos

Take high-quality photos of the panties or underwear you intend to sell. Make sure the images are clear and showcase the product from different angles. Snifffr allows you to upload these images to your shop or profile.

List your items

Create individual listings for each pair of panties or underwear you want to sell. Provide accurate and detailed descriptions of the items, including the style, color, size, and unique features. Be honest and transparent about the condition of the underwear.

Set your prices

Determine the price for each item you are selling. Consider brand, condition, exclusivity, and demand when setting your prices. Snifffr allows you to choose your own pricing, so set reasonable rates to attract potential buyers.

Communicate with buyers

Engage with potential buyers who show interest in your listings. Use Snifffr's online chat functionality or private messaging system to answer their questions and provide additional information.

Arrange payment and shipping

Once a buyer is ready to purchase your underwear, discuss and agree upon a payment method. Snifffr does not get involved in the transaction process, so it is essential to establish a secure and trustworthy payment method. Additionally, agree upon a shipping method and address any instructions or preferences from the buyer.

Ship the items

After receiving payment, promptly ship the items to the buyer's provided address. It is advisable to use a shipping method that includes tracking to ensure a smooth and transparent delivery process. Snifffr recommends shipping all items with tracking to minimize the risk of non-delivery issues.

Maintain privacy and anonymity

To protect your privacy and maintain anonymity, consider using a return address that is the same as the delivery address. This helps to ensure that your personal information remains confidential.

Provide excellent customer service

Maintaining open communication with the buyer during the transaction process. Address any concerns or issues promptly and professionally. Positive feedback and buyer satisfaction can help build a good reputation on Snifffr and attract more potential customers.
Remember to always adhere to the guidelines and policies set forth by Snifffr to maintain a safe and reliable selling experience.
Payments and Shipping
Snifffr accepts various payment methods, including credit cards, debit cards, and PayPal. Shipping is available worldwide, and the cost is calculated based on the weight of the package and the destination. Snifffr offers discreet packaging to protect your privacy.
Snifffr Customer Service
The website has a dedicated customer service team that is available to answer any questions or concerns you may have. You can contact them through the website or by email. In our experience, the customer service team is helpful and responsive. Overall, the user experience on Snifffr is smooth and easy. The website is well-designed and user-friendly, and the user experience is straightforward. Snifffr is a trustworthy marketplace that takes steps to ensure the safety and security of its users.
Sites like Snifffr
There are many other used underwear sites on the internet. Still, Snifffr stands out due to its extensive selection, competitive pricing, and excellent customer service. Snifffr is a top choice for buying and selling used panties, socks other stuff, unlike other places. Let's dive into the details a bit.
Allthingsworn.com
Allthingsworn is a pre-owned pants marketplace that was established in 2019. Besides panties, it also offers various other personal items, including socks and tees. Allthingsworn has an admirable standing for customer service and provides a loyalty program for frequent buyers.
Pantydeal.com
Pantydeal is an online lingerie store that specializes in high-quality, affordable lingerie. The company offers a wide selection of styles, sizes, and colors to meet the needs of all customers. Pantydeal also provides helpful sizing guides and customer service support to ensure customers find the perfect fit. In addition, Pantydeal offers free shipping on orders over $50 and a loyalty program for repeat customers.
Sofiagray.com
Sofia Gray is a website that allows influencers and models to sell their products directly to customers. The platform offers a wide range of beauty, fashion, lifestyle, health & fitness products, and more. Customers can search for items by category or look through influencer-curated collections. Sofia Gray also provides tools for influencers to manage their stores and track sales.
Scentedpansy.com
Scented Pansy and Snifffr are both platforms that allow users to buy and sell used items online. Both platforms have a simple interface and extensive catalog, facilitating browsing through all available options. One difference between the two platforms is that Scentedpansy has a more specialized focus on panty sellers, while the other has a broader range of used items available. Additionally, Scentedpansy offers a loyalty program for frequent purchasers but doesn't have a referral program for sellers.
Snifffr.com
Snifffr is a vibrant community for selling and buying used panties, providing a user-friendly interface and various features to connect sellers and buyers. Experience secure transactions and a wide range of products in this thriving marketplace.
Positive
Wide selection of used underwear available.
Competitive pricing.
Accepts a variety of payment methods.
Worldwide shipping is available.
Dedicated customer service team.
User-friendly website with a smooth and easy user experience.
Takes steps to ensure the safety and security of its users.
Negatives
The quality of the used underwear may vary, so it's important to carefully read descriptions and view photos before purchasing.
Shipping costs may be expensive for international orders.
Returns and exchanges may not always be possible due to the nature of the items being sold.
Frequently Asking Questions
Is Snifffr legit to sell?
Yes, Snifffr is a legitimate platform to sell used underclothing on. The platform has a user-friendly interface, a wide range of features for sellers, and a reputation for being a reliable and trustworthy place to fulfill all desires.
Can Men Sell Underwear On Snifffr?
Men are allowed to sell on Snifffr, just like women. The platform is open to all genders, and there is a great demand for both male- and female-used items on the market.
How To Make Money on Snifffr selling used underwear?
To earn on Snifffr as a seller, you must list your items for sale on the platform and interact with potential buyers through the online chat feature. It is also essential to be responsive and professional in your interactions with buyers, as this can help to increase your chances of making successful sales.
How Will You Be Getting Paid on Snifffr?
As a seller on Snifffr, you can get paid through various payment methods, including PayPal, bank transfer, and credit card. The platform handles the payment processing on behalf of the sellers, so you don't have to worry about running financial transactions with your buyers directly.
Conclusion
Snifffr, a popular online marketplace for buying and selling used panties, is rapidly growing, with new buyers and sellers signing up daily. The platform offers a user-friendly website that is easy to navigate for anyone looking to buy used panties. Creating a free account unlocks many features and allows buyers to access a list of high-quality used panty sellers.
For those who want to take advantage of even more features, Snifffr offers affordable premium options. However, before making a purchase, it is highly recommended to take a few minutes to read through the frequently asked questions (FAQ) page. Doing so will help ensure a smooth and pleasant experience while shopping for used panties on the site.
In addition, Snifffr's customer support team is also readily available to answer any questions or concerns buyers may have. Their response time is usually fast, ensuring buyers promptly receive the support they need. Overall, Snifffr is a great platform for anyone looking to buy used panties anonymously and discreetly.