Have you ever fantasized about dipping your toes into the exotic world of fetishism? Well, hold onto your knickers and prepare for a wild ride! Welcome to Panty Trust, an extraordinary online platform that has revolutionized the fetish community since 2001. Imagine a haven where you can buy or sell used panties, socks, shoes, lingerie, fetish videos, and more with complete privacy and discretion. You're not just engaging in transactions here; you're becoming part of a thriving community built on trust and mutual satisfaction. At Panty Trust, they don't just verify their sellers – they ensure each one is as reliable as a Swiss watch. And whether you're buying or selling, you'll be armed with all the ethical guidelines, safety advice, and support services you need to navigate this intriguing market. So buckle up! You're about to dive headfirst into the fascinating world of Panty Trust: Your gateway to verified fetish sellers and countless exciting discoveries.
Platform Overview
PantyTrust.com, your one-stop shop for all things fetish, is not just another marketplace; it's a community with no free lunch – every seller is verified and promoted to ensure dependability and professionalism. This thriving platform provides access to trusted sellers of everything from used panties and socks to lingerie and fetish videos. It's about transactions and encouraging community engagement, promoting ethical standards in the industry. Privacy protection is paramount here; your discretion is always respected. If any issue arises, their support and mediation services are there. With Panty Trust, dive into the world of fetishes confidently, knowing that ethics, authenticity, and mutual satisfaction guide every transaction.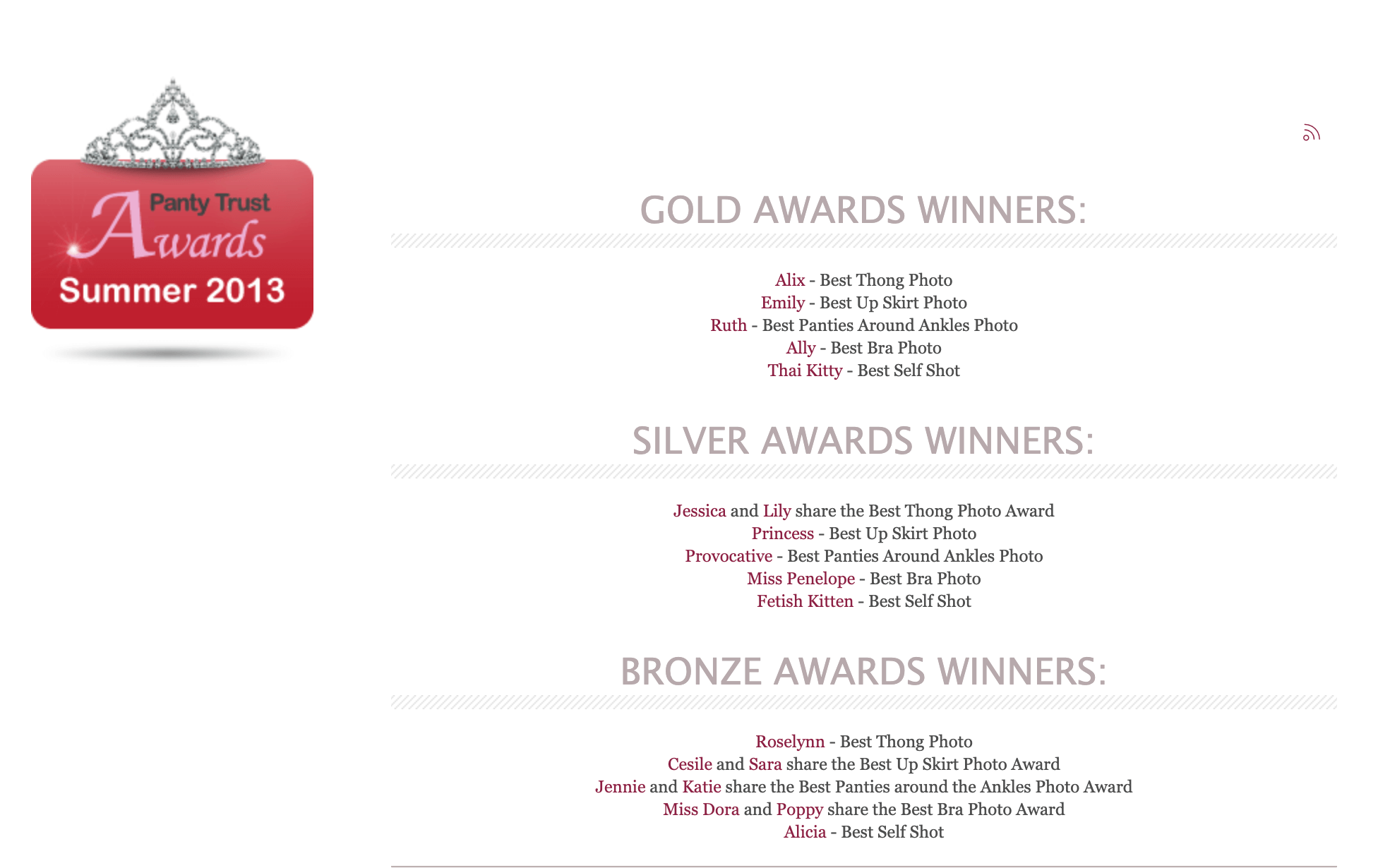 The Panty Trust Awards 2013 celebrated the best in the used panties-selling community. The winners were recognized for their exceptional photos in various categories, including thongs, up-skirt, panties around ankles, bras, and self-shots.
PantyTrust.com Membership Verification
Each member's profile undergoes a rigorous verification process to ensure the utmost integrity and reliability. This is no cursory check but an in-depth procedure offering authenticity assurance and privacy protection. You can trust that every seller you encounter on Panty Trust has been thoroughly vetted for their adherence to professionalism standards, providing a trustworthiness guarantee that sets your mind at ease.
| Benefit | Panty Trust Approach |
| --- | --- |
| Authenticity Assurance | Rigorous Verification Process |
| Privacy Protection | Strict Discretion Measures |
| Trustworthiness Guarantee | Continuous Monitoring & Support |
Remember, Panty Trust isn't just about buying and selling fetish items. It's about fostering a safe, ethical community where everyone feels valued and secure. Your peace of mind is our priority; we're committed to maintaining this trusted platform for all fetish enthusiasts.
Buyers' Guide
Ready to explore the exciting world of online lingerie buying? Let's dive into some tips and tricks to make your experience smooth, safe, and satisfying.
Finding Authentic Sellers: With Panty Trust, you're taking no chances. Every seller is verified thoroughly with a flawless sales history ensuring authenticity.
Ensuring Discretion: Your privacy is our priority. We value discretion and ensure all transactions remain confidential.
Building Trust with Sellers: Our community operates on trust! You help maintain a trusted network of fetish sellers by purchasing from our members.
Don't limit yourself; explore different fetish items on Panty Trust, and understand the buyer-seller dynamics in this unique marketplace for an enriching experience. Remember, we're always here to help! Dive in and enjoy a safe fetish shopping spree!
How to Sell on Panty Trust
Curious about turning your lingerie drawer into a lucrative business? Let's decode the process of becoming a successful seller on this unique platform. To thrive and build a reliable customer base, you'll need to master effective marketing strategies. This includes creating attractive product listings that make potential buyers stop and take notice.
Maintaining privacy and discretion is also paramount at Panty Trust. It's not just about selling; it's about ensuring customer satisfaction too. Here are some key considerations:
| Consideration | Importance |
| --- | --- |
| Effective Marketing Strategies | Make your products stand out |
| Building a Reliable Customer Base | Provide consistent quality service |
| Maintaining Privacy and Discretion | Protect both buyer and seller identities |
So, ready to turn those lacy briefs into cold hard cash? Dive in!
Pricing
Setting the right price for your fetish items can be a game-changer in this unique market. On Panty Trust, pricing transparency is key to building trust with buyers. While setting competitive prices can attract more customers, it's also crucial not to undervalue your products. Negotiation is part of the process; many buyers appreciate the chance to discuss prices.
Offering discounts or promotions occasionally can draw in new clientele or reward loyal ones. As you gain experience selling different fetish items, you'll develop pricing strategies specific to each item type taking into account their demand and rarity.
Keep an open mind and always consider feedback from your buyers – after all, they are integral in shaping this thriving fetish community.
Frequently Asked Questions
How does Panty Trust ensure the privacy and discretion of its members?
"Panty Trust protects your privacy perfectly. Data encryption methods defend your details, anonymity assurance adds an extra layer of safety. Their privacy policies prioritize member protection, and discretion measures maintain confidentiality in all transactions."
What measures does Panty Trust take to verify the authenticity of items sold on the platform?
Panty Trust's rigorous verification process ensures seller verification and product authenticity. It uses multiple checks, building trust in the community. They assure you that the items sold are authentic, adding credibility to your fetish buying experience.
How does Panty Trust handle conflict resolutions between buyers and sellers?
When a dispute arises, Panty Trust prioritizes buyer satisfaction and seller accountability. They employ trust-building strategies by utilizing various communication channels to facilitate effective dispute handling, ensuring a harmonious resolution for all parties involved.
How does Panty Trust promote engagement and involvement from its community members?
Panty Trust ignites community spirit with enticing incentives, robust engagement strategies, and well-deserved member recognition. By fostering collaborative initiatives and personalized outreach, you're not just partaking but actively shaping this vibrant fetish community.
What kind of support and education does Panty Trust offer to its members?
You can access membership benefits like educational resources on trust operations and community guidelines as a member. Panty Trust also provides selling tips to empower your business within the fetish community.
Conclusion
Don't let skepticism hold you back. Panty Trust is not just a platform, it's a community built on trust and ethics. Whether buying or selling, we've got your back with verification checks, guidelines, and support services. So why wait? Dive into this thriving fetish community with confidence knowing every transaction is secure and professional. Remember: your pleasure is our business!